What makes silent disco headphones different than regular headphones?
Unlike regular headphones that allow you to listen to your own audio, silent disco headphones allow a group of people to listen to a single source at a party or group event.
Silent disco headphones are wireless over-the-ear headphones (as opposed to earbuds) that pick up their audio signal from a special transmitter used by the DJ, Band, or presenter.
The 'disco' part of the term, silent disco headphones, does not refer to the 'disco' genre. It refers to the fact that they are typically used for dance party music.
Additionally, a 'Silent Disco' dance party does not mean that there will be 70's style disco music played. It only means that silent disco headphones will be listened to by the dancers as opposed to the loudspeakers of a traditional PA system.
The headphones, are used for all genres and types of audio and have a range of 300 meters (about three football fields) from the DJ(s), Band(s) or presenter(s).
This makes silent disco a perfect option to allow large groups of people to dance to 'loud' music in relative 'silence'.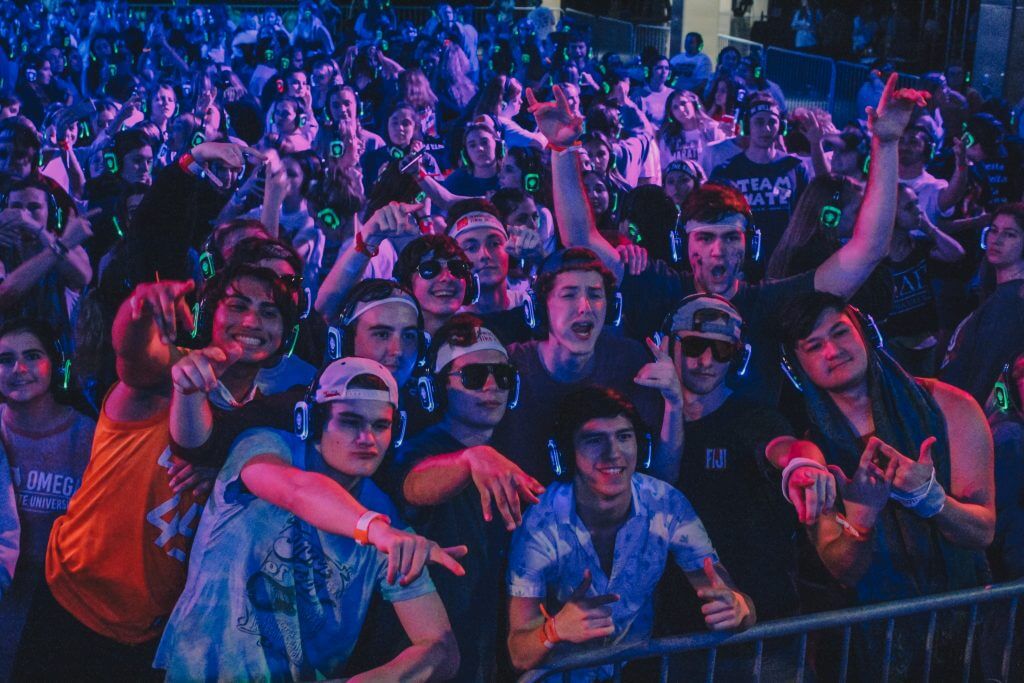 The silent aspect of these headphones have made silent disco parties extremely popular in high-density-population areas and in any location that has noise ordinances.
When silent disco headphones are used, large outdoor music festivals can be held inside city limits where the noise would otherwise be prohibitively loud.
Want to have a dance party in your local library?
Silent disco headphones will allow you to do that in silence!
The headphones allow parties to continue into the after-hours in relative quiet which keeps the neighbors happy and the police from being called in to break up the party.
Think about a simple party in your backyard. If you want to have loud music playing but you know your neighbors would kill you, silent disco headphones are a game changer.
Your guests can play the music as loud as they want to and nobody is going to call the cops!
With silent disco headphones, you can even have a party in your hotel room or apartment without having to worry about getting kicked out!
Silent disco headphones allow dancers to have conversations.
When the music comes from loudspeakers at a dance party, if is very difficult for dancers to have a conversation. They have to yell to be heard above the music or step outside to talk.
With silent disco parties, it is super easy to have conversations because all you have to do is remove your headphones.
The loud music disappears immediately when you remove the headphones. Now you can talk freely in a conversational tone.
No more need to blow out your vocal cords trying to talk to your friends over the music.
Talking to your friends at a dance party is way easier with silent disco!
Silent disco headphones don't all have the same number of channels.
When the concept started in the 90's and early 2000's, the headphones picked up a single channel only. Now you can find headphones with anywhere from 1 to 10 channels.
For each channel, you need a separate transmitter connected to its own audio source.
The most popular systems today are three channels. This means that there are three transmitters, -each with their own audio source.
Headphone wearers can choose to listen to any one of three audio sources at any given moment by switching the channel on their headphones.
Popular uses for Silent Disco headphones:
A popular use is to avoid using a DJ by having three different playlists streaming from Spotify or Apple Music to three different cell phones. Each of those cell phones are connected to one of the three transmitters. Each transmitter broadcasts wirelessly to one of the channels on the headphones.
At a large dance party or rave, there might be three live DJs. Each DJ is feeding their audio into one of the transmitters and competing for the listeners attention.
The headphones light up in a different color according to which channel the dancer is listening to. This allows the DJs to see who is listening to their feed which adds additional fun and excitement to all involved.
The video below shows the headphones you receive when you rent from us.
Our headphones are thoroughly disinfected between each rental.
We take disinfection very seriously and we only use products that the ETA and CDC confirm will destroy coronavirus SARS-Cov-2 strains.
Our headphones have the following features:
They are three channel headphones which means you can use three audio sources. (We include three transmitters; one for each channel.)
They have a channel switcher to enable the wearer to switch which transmitter they want to listen to at any given time.
Each headphone has it's own volume control.
They have LEDs in the ear covers that light up red, green and blue according to which channel the wearer is listening to.
They are adjustable for the size of the wearer's head.
They are tight enough to do some serious head-banging.
They are very comfortable for extended dance marathons.
They are powered by rechargeable batteries that operate for 10 hours on a single charge.
Most importantly; They sound great!
The headphones arrive to your location already charged and ready to go for your event.
Ready to rent?
Email me to get your quote and to get the rental process started at djjohnnyonly@gmail.com