Silent Disco Set-up
The objective of 3 channel Silent Disco is to have 3 audio playing devices; one attached to each of the three transmitters, thus giving the participants who are wearing the 3 channel headphones a choice between three different songs at any given time.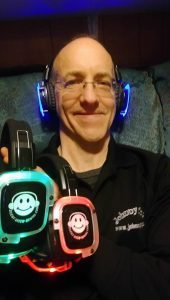 -Each of the three audio devices (one for each transmitter) should be playing a different playlist throughout the event.
-Each of the three transmitters are broadcasting from their own audio device.
-Each of the three transmitters have their own channel (1, 2, or 3)
Participants wearing the headphones have a channel selector with which they can switch their channel (thereby switching the song) they are listening to at any given time.
It is difficult to describe just how much fun this is. It is also difficult to understand just how much fun it is until you try it.
The headphone wearing listener is choosing what song they want to listen to by themselves – yes, the organizers need to choose the playlist. – I use Spotify, you can find really good curated playlists for any genre or demographic that have already been tested (you can tell by the number of followers)
I send you all three transmitters, one for each channel. There are no controls on the transmitter (besides a channel selector and an on/off switch – but I already have them set for you – you don't do anything but plug them in)
You need to supply three devices to play audio. They can be phones, or any combination of three tablets' laptops, ipods etc. -Devices that can play music that is either on the device – or stream music from Spotify or Apple music or Tidal, Amazon, Pandora, etc.- I like the streaming choice because you can choose from playlists that are already made for you – and some of them perfectly target any type of audience you might have.